Bridge to the 21st Century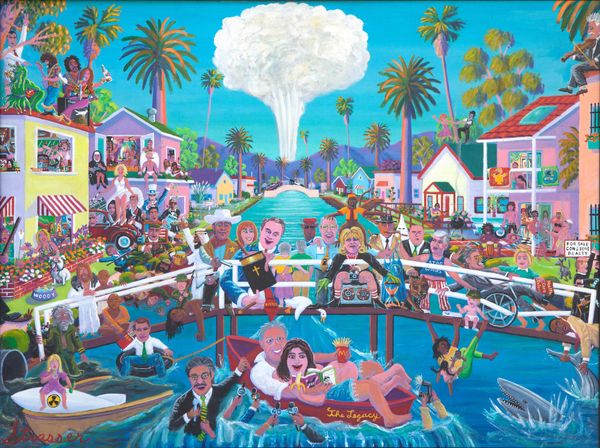 Bridge to the 21st Century
"Bridge to the 21st Century" is one of my few overtly political paintings. It was created in the midst of the impeachment trial of President William Jefferson Clinton. The complex mix of imagery essentially depicts the cultural war between factions who continue to lob spit wads across the vast ideological gulf which still divides the U.S of A. Nowadays, the battle commences via Twitter.
This 36 x 48 original acrylic on canvas took over 4 months of no nonsense 10-12 hour work days to complete. I created this painting in 1999, prior to having a computer or access to the internet. So I literally clipped photos from magazines and newspapers to use as photo references. As you might imagine, I had quite a collection of strange images scotch taped to my studio walls.
I listened all day to left wing and right wing radio while I painted. Ironically, I was able to simply switch a button on my stereo from AM to FM to alternate between conservative and progressive perspectives on the current events in D.C. As I recall, I painted with intensely vacillating degrees of creative passion and boiling blood.

Curiously, Bridge to the 21st Century began as a simple Venice Canal landscape, intended to replace a painting which had been sold in a local exhibit of my work. When the impeachment trial went down, I felt inspired to comment on this historical event as an artist and an American. Ultimately, my 36 x 48 canvas was hijacked by a renegade tribe of red, white and blue muses.
I showed the painting publicly once. I was invited to submit a piece to a 2005 exhibit called "Venice Artists on Venice," at the Social and Public Arts Resource Center (SPARC). The show was all part of various Venice Centennial celebrations. I recall a lively crowd at the opening, and posing for a quick photo in front of my painting with recently deceased local political icon Bill Rosendahl.