Abbot Kinney's Wildest Dream | 24 x 36 | Acrylic on Canvas Painting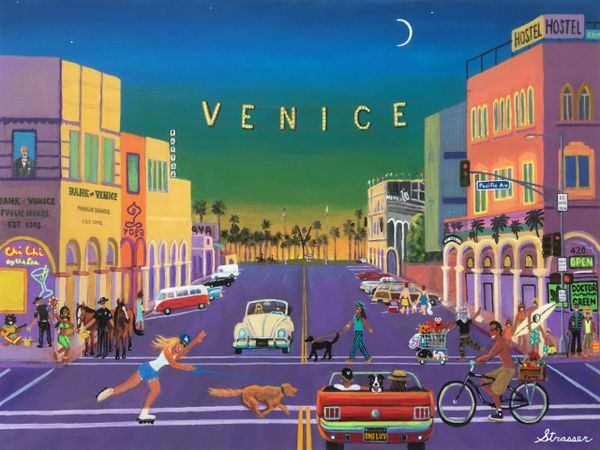 Abbot Kinney's Wildest Dream | 24 x 36 | Acrylic on Canvas Painting
"Abbot Kinney's Wildest Dream" is the last painting I will create in the Venice Beach, California studio where I have lived and worked for nearly 40 years. The painting is essentially my goodbye kiss to the eclectic and quirky seaside community I have portrayed in dozens of paintings over four decades.
I am offering this 24" x 36" original acrylic on canvas at a discount to help finance my cross country transition to a new studio in Savannah, Georgia. If purchased online by midnight Tuesday November 28th, I will ship it prior to departing for Georgia. Otherwise you may purchase the painting directly from me at my studio until noon on Friday December 1. 
The $1,100 cost includes shipping and handling. I will see it for $1,000 if purchased directly from me at my studio. 
Please Feel free to contact me with any questions. fs@frankstrasser.com | 310-428-7590